Provincial recycling innovations extend the lifecycle of products formerly considered waste
Article content
When tires are recycled in Alberta, they're shredded into their component parts — including nylon, steel and rubber — and repurposed as feedstock for asphalt, playground surfaces, landscaping material and even roof shingles that can withstand extreme weather.
Article content
This recycling process is the start of an exciting second life for hazardous materials that would otherwise fester in a landfill. And it's just one example of how the Alberta Recycling Management Authority (ARMA) is sparking new industries as it seeks a future without waste.
Article content
"Simply sending used material to landfill is no longer a real, viable option; it just feels wrong," says Ed Gugenheimer, CEO of ARMA. "Our organization is always trying to [figure out] how we can leave things better than how we found them, and innovation is the cornerstone of that approach."
Article content
As Alberta's recycling specialist, ARMA acts on behalf of the province to oversee end-of-life processing of tires, electronics, paint, and used oil materials.
Article content
The organization is rooted in the idea of a circular economy, where used products are regenerated into new materials, potentially for multiple lifecycles. This is part of a broader government strategy to reduce Albertans' environmental footprint while providing new opportunities for manufacturers.
Article content
"Alberta shares a global concern that it is unacceptable to see plastic waste fill up our landfills, our communities and our waterways," says Whitney Issik, provincial Minister of Environment and Parks.
"Alberta's government is in full support of ensuring that plastics are not just used and recycled, but also turned into new products that our environment, economy and all Albertans can benefit from. This commitment of recycling more and reducing waste helps diversify our economy and create good paying jobs."
Article content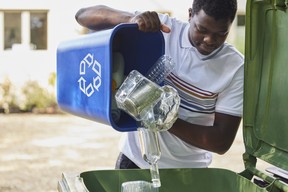 Since ARMA was created nearly 30 years ago, Alberta has been a leader in Canada's recycling community. It started Canada's second oldest tire recycling program in 1992, launched the first electronics recycling program in the country in 2004 and began recycling paint in 2008. In 2018, ARMA began recycling oil products on behalf of the province.
To date, Albertans have diverted over 131 million tires, 31 million litres of paint, 1.94 billion litres of used oil, and 11 million electronic devices from landfill sites, says Gugenheimer.
"I'd like to thank everyone who has been involved in recycling: both past and present. It's not about ARMA, it's about everyone else that helps support those out."
The list of innovative new products that can be fashioned from hard-to-recycle materials is already long — and it continues to grow as ARMA develops new processes.
Article content
Computers, televisions and other household electronics can be harvested for parts, their metals, plastics and glass sold as commodities that can be turned into new products.
Glass from computer screens and TV sets is melted down, separating the lead, and reused in the manufacture of new products. Steel, aluminum and copper wire from power cables and audio-visual connectors are turned into feedstock for new products.
Plastic from keyboards and computer mice are processed into plastic flakes and pellets that can be used in compression moulding, reinforced composites, powder coating and 3D printing, among other manufacturing processes.
Meanwhile, good-quality latex paint can be collected and remade into new paint. Rotten latex paint can be used as a feedstock for clinker — a stony material that, when mixed with bottom ash from coal plants, can be turned into concrete or cement.
Article content
Used oil can be re-refined, cleaned and reused, including as a cost-effective fuel for asphalt plants. Used oil filters become rebar and pipe, and oil containers can be made into guardrails, fence posts and railroad ties.
"There's multiple uses if you do it right," says Gugenheimer.
As ARMA celebrates its 30th anniversary this year, Alberta continues to evolve its recycling programs and processes, adding to the list of materials it can process.
This includes a solar panel recycling ePilot program that is diverting products that would otherwise go into landfill sites and is the first of its kind in Canada, according to Gugenheimer.
The provincial government has a goal of establishing Alberta as western North America's centre of excellence for plastics diversion and recycling by 2030. Alberta is also building capacity to manage hard-to-recycle plastics, including shrink wrap film, food-grade plastics, foam and polystyrene containers through its Natural Gas Vision and Strategy. These technologies, along with policy tools like Extended Producer Responsibility (EPR), are key to ensuring those valuable plastics stay in the Alberta economy and out of the landfill.
"Innovations such as these will allow Alberta families and businesses more opportunities to recycle their plastic goods back into new everyday products," says Issik. "Successful, made-in Alberta recycling programs are made possible thanks to collaboration between industry, organizations, municipalities and Albertans, whose collective efforts are stimulating the economy, making better use of tax dollars, creating jobs and reducing waste."
This story was created by Content Works, Postmedia's commercial content division, on behalf of Alberta Recycling Management Authority.