With eased COVID-19 restrictions and year-end festivities boosting the amount of garbage in public spaces, Citibank Taiwan Ltd (花旗台灣) has joined with the New Taipei City Government and Taiwan RE-THINK Environmental Education Association to promote environmental education. They have establish a low-carbon site transformation at the New Taipei City Hall's B1 floor, which aims to inform the public of the importance of recycling, waste reduction and lowering carbon emissions.
The site, which is the first among the nation's six special municipalities, showed that re-signing trash bins can help increase people's willingness to sort garbage from 41.9 percent to 87.8 percent, while the ratio of appropriate recycling behavior could increase from 26 percent to 53 percent.
"New Taipei City is committed to the vision of a sustainable and livable city. The action of proceeding with the public space renovation at the city government offices is to establish a demonstration site for environmental education and waste recycling," New Taipei City Environmental Protection Department Director-General Cheng Ta-wei (程大維) said.
Photo courtesy of Citibank Taiwan Ltd
"Unveiling this demonstration site during the 'New Taipei City Christmasland' event is the best time to test" the garbage generated by crowds of people, he added.
"Citigroup Inc aims to achieve net zero carbon emissions by 2050, including the group's own operations by 2030, and Citibank Taiwan has spared no effort in compliance with the group's policy," Citibank Taiwan public affairs officer Nancy Yin (尹乃馨) said.
"In 2021, Citibank Taiwan took advantage of the younger generation's ideas to start renovating company offices into low-carbon spaces, which increased the correct garbage-sorting rate by 39 percent, and took a gradual approach to promote the concept of low-carbon site transformation to communities and campuses," Yin said.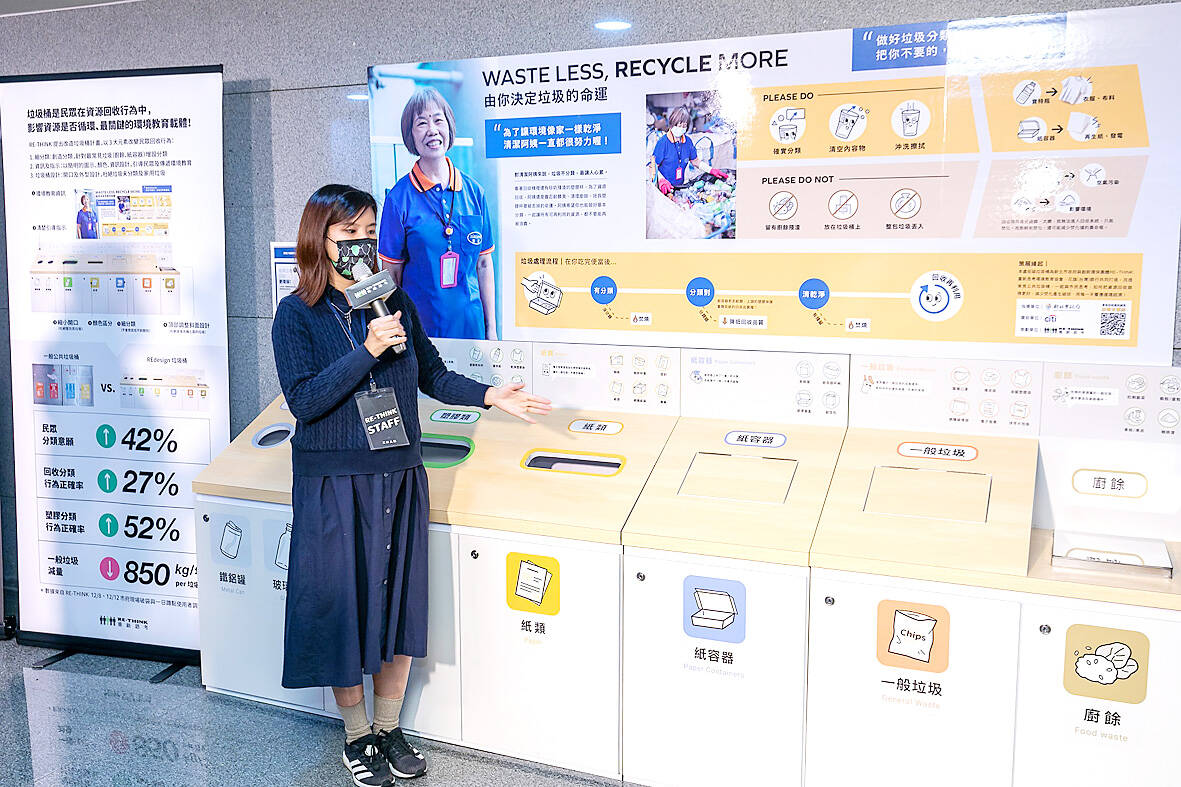 Photo courtesy of Citibank Taiwan Ltd
"Citibank Taiwan is also actively promoting electronic bills to reduce paper waste. As of mid-2022, up to 92 percent of new customers had signed up for the bank's electronic billing services or browsed billing online. We have turned the slogan of carbon reduction into concrete actions."
Since 2018, Citibank Taiwan has been collaborating with Taiwan RE-THINK Environmental Education Association to create the first sea waste illustrated book in Taiwan.
In recent years, the bank has also used a recycling encyclopedia to promote recycling education in daily life and address the sources of waste generation in Taiwan.
This year's recycling awareness survey by RE-THINK showed that more than 66 percent of respondents agreed that "insufficient information on garbage classification" was the biggest obstacle to correct recycling — including not knowing which category waste should be thrown in (59.3 percent), different rules at homes, schools and offices (50.2 percent) and trash cans that are unclearly or insufficiently marked (42.1 percent), all of which made it difficult to sort garbage.
"RE-THINK hopes to guide correct recycling behavior and promote environmental education through creative low-carbon site transformations," RE-THINK founder Jason Huang (黃之揚) said.
"Starting in 2021, RE-THINK joined with Citibank Taiwan to transform offices, campuses and now Taipei City Government into low-carbon sites. This year, RE-THINK cooperated with the New Taipei City Environmental Protection Department and the Secretariat to redesign the city government's garbage bins and recycling areas," he said.
"Aiming at the Christmasland in New Taipei City event this year, we aim to launch the first city-level low-carbon demonstration site in Taiwan and make the recycling domain a social experiment in a bold move," Huang said.
RE-THINK conducted an on-site survey on broken garbage bags in the New Taipei City Government, and interviewed sanitation workers who play a key role in the recycling system. It was found that despite the public's recycling awareness, people were often troubled by not being able to sort garbage when doing recycling, the most misplaced garbage was kitchen waste and paper containers, while the top two most troublesome garbage items were bubble tea curry rice waste, as they are dirty, smelly and sticky, and easily pollute other recyclables, sanitation workers said.
A survey by RE-THINK at the Christmasland event showed that the public's willingness to sort garbage could be increased from 41.9 percent to 87.8 percent, and that the correct rate of recycling behavior would be increased from 26 percent to 53 percent if trash bins were re-designed to include instructions.
Just one trash bin with a better subdivision design and clearer instructions could reduce about 850kg of general waste a year, RE-THINK said, with the equivalent of 433kg of carbon dioxide reduction.
Huang said he hoped to make the new recycling site a social experiment, and reminded people to visit this "alternative attraction" at the New Taipei City Hall's B1 floor while enjoying the Christmasland event.
Comments will be moderated. Keep comments relevant to the article. Remarks containing abusive and obscene language, personal attacks of any kind or promotion will be removed and the user banned. Final decision will be at the discretion of the Taipei Times.