Published 2 hours ago
Submitted by Fifth Third Bancorp
In its headquarters city of Cincinnati, Fifth Third supports the Green Umbrella regional sustainability alliance through membership, conference sponsorship and board service. Fifth Third has been a key sponsor for the Midwest Regional Sustainability Summit, which in 2022 featured Kristin Baja who supports cities to advance climate resilience planning and implementation. Fifth Third also is a founding member of the Greater Cincinnati Green Business Council and the Cincinnati 2030 District.
In 2021, Fifth Third pledged to be an active member of the Smart Columbus Acceleration Partner Program by proactively advancing community sustainability and competitiveness. By signing the pledge, Fifth Third committed to provide education and investments in sustainable transportation, renewable energy and digitalization.
The Company also supports the sustainability journeys of our employees and communities. In 2021, Fifth Third hosted employee-focused electronic waste recycling events at its Madisonville campus in Cincinnati and its Grand Rapids, Michigan, campus, which together collected more than 7,000 pounds of old equipment. The events kept these materials out of landfills and ensured responsible disposition.
In 2020 and 2021, Fifth Third co-hosted county-wide compost bin and rain barrel sale events to help citizens purchase the supplies needed to compost and reduce water waste at home. In 2021, it co-hosted a household hazardous waste take back event to help residents responsibly dispose of toxic materials. More than 95,000 pounds of hazardous products were collected and safely disposed. For its efforts, Fifth Third received the 2021 Outstanding Partner Award from Hamilton County R3SOURCE, the county's waste and recycling agency.
Fifth Third is proud to be the lead sponsor of Chicago's "Bike the Drive," which we have sponsored since 2019. This event encourages the community to use active transportation modes and serves as a fundraiser for the Active Transportation Alliance, which works to advance active transportation modes year-round.
For more information about how Fifth Third supports sustainability in its communities, read the 2021 ESG Report.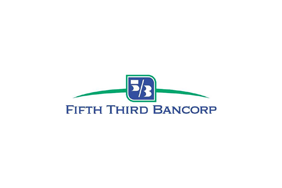 Fifth Third Bancorp