RediShred (TSXV:KUT:CA) (OTCPK:RDCPF), a small and under-covered Canadian paper-shredding franchise, could be a hidden gem. It has all the potential to be a serial acquirer over the coming years with decent returns on capital in a market with high barriers to entry. At the same time, it is shifting its activities away from paper shredding, which de-risks the investment. I believe that the current valuation is too low for at least 3 reasons.
1. The business does have quite a strong MOAT because of entrance fees and network effects.
To enter the market, an entrant would need to buy an expensive shredding truck (which costs, even a quite old secondhand small one, more than $80k), obtain a CDL license, and also find a co-operator who also is in the possession of a CDL license. At the same time, the costs of insurance and maintenance are fixed and quite high.
To turn a profit, the operator should have a relatively high number of clients. More important, however, is route density: you need a high number of customers in a small location. A typical shredding job costs 50-150$, making it unworthwhile to have to drive hours from job to job. The drive would cost you more in gas than it generates in revenue.
So, not only would an entrant have to pay up for the truck, need to find employees with the correct license, and pay relatively high fixed costs in insurance and maintenance… the firm should also find customers that are all 'clustered' in the same area. That's a very difficult thing to do from scratch.
Hence why almost no new paper shredders are entering the market. At the same time, this provides strong network effects. If two shredders can combine their customers that are located in the same area, they may be able to serve all those customers in 1 drive – which, as separate companies, would have taken 2 drives – halving their variable costs without reducing revenues. This brings me to the second point…
2. Consolidation makes growing rather easy for RediShred
10 years ago, RediShred operated following a franchising model: it provided the know-how, ERP software, and branding for its franchisees in return for a commission worth 8-9% of revenues.
Over the years, the strategy has shifted towards owning the locations themselves. This is done by acquiring its franchised locations once those operators wanted to exit the business.
This way, it has been able to increase the number of corporate locations from 10 to 14 since 2019:

At the same time, it is seeking to also increase the number of franchised locations, but – as described above – it is very hard to find anyone who is willing to start a new shredding company. The number of franchised companies is, thus, declining as they are getting bought by RediShred.
This increase in owned locations has made revenues and profits skyrocket: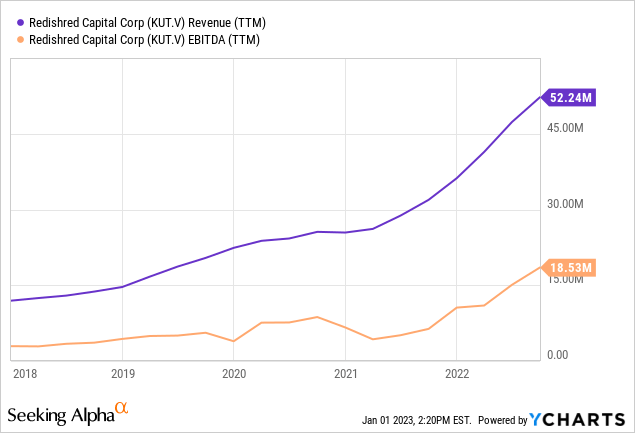 And there's plenty of room for growth left, as RediShred could over the coming years increase its number of owned locations from 14 to 30, just by acquiring its own franchisees. Its prior acquisitions have been mainly financed by operating cash flow, although the firm also raised some equity.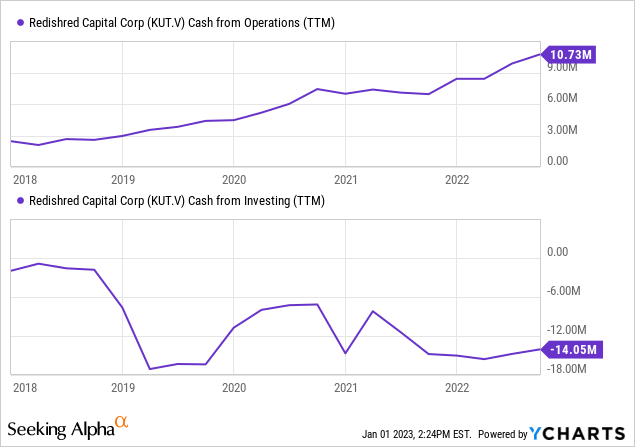 Moreover, there is also the possibility for vertical integration. The paper that RediShred shreds, is brought to a recycling facility which pays RediShred a fraction of the end worth of the recycled paper. Redishred is looking to capture a greater part of this value chain, and acquired a recycling plant last year:
With this acquisition, RediShred obtained two new baling and plant-based facilities enhancing recycling opportunities. RediShred has commenced the integration of the acquired business into the existing business with a view to enhancing client service and route density. – Annual Report, 2021
3. Digitization is, for now, increasing shredding demand
As firms are moving towards a work-from-home and open offices world, offices are getting "cleaned up". This is, ironically, generating extra shredding demand. Of course, I believe that, over time, there won't be much demand for the paper shredding business. At the same time, this should be a slow process, to which RediShred is adjusting by focusing on other shreddable products, such as electronic waste, to which demand should stick around for much longer:
The Company completed the acquisition of Tech Shredders LLC ("Tech Shredders"), a New Jersey based electronic waste recycling and hard drive shredding business on August 1, 2022 – Q3 2022 MD&A
Before investing
Before investing in RediShred, please note that this is a microcap. A high-quality one, sure, but there are still risks involved. I have listed the most material ones, in case you are unfamiliar with the stock.
Low liquidity
On average, the stock is traded on the Toronto Stock Exchange around 3,600 times a day – equaling around 10,000$ CAD. Yet, the stock is not too volatile, having a 5Y monthly beta of 1.11.
Concentrated ownership
Around 40% of shares are held by insiders, who have been buying in the first half of 2022. Another 13% is owned by a hedge fund. The hedge fund is down -55% last year, so there could be a risk of capital outflows in the fund which could force it to trim its position.
Equity raises, and increasingly more expensive debt
At the end of 2021, the firm drew down more than $6M CAD from its non-revolving term loan, at an interest rate of 6.52%. This is substantially higher than its previous loans (2.99%-3.69%). As debt has become too expensive, the firm is turning towards equity raises. At the end of 2021, it issued for $9M CAD worth of stock.
Today, RediShred has around $20M CAD in liquid assets and around $14M in short-term liabilities, while it's generated $6M CAD free cash flow LTM. There do not seem to be, thus, any liquidity issues.
Long-term borrowings are around $20M CAD, compared to $12M CAD LTM EBITDA. While the debt is, thus, quite high, it is manageable and only has to be paid off, spread out, over the coming 4-8 years. Raising additional debt, however, might be difficult.
Conclusion
At a price of around 10x LTM earnings, the market is pricing in a steady decline of RediShred's activities. However, the reality is pointing in the opposite direction. No competitors are entering the market, while RediShred can both easily integrate vertically (by buying recycling plants) and horizontally (by buying electronic waste shredders). At the same time, WFH and digitization are creating, for now, an uptick in demand for paper shredding activities. Over time, Redishred should be able to adjust to lower demand for paper shredding.
Hence, I believe that, instead of a gradual decline, it's quite possible that RediShred may gradually increase its revenues. Management believes so, too:

Moreover, due to the high proportion of fixed costs, such revenue growth should translate into better operating leverage and higher margins. Again, management agrees:

Currently, the EBIT margin stands at an impressive 19%, which is more than 20% below the gross margin (40%). While gross margin will decrease, as royalty income has a significantly higher gross margin than owned locations, the increasing scale and declining share of G&A costs should result in a further uptrend of the EBIT margin towards 20-25%.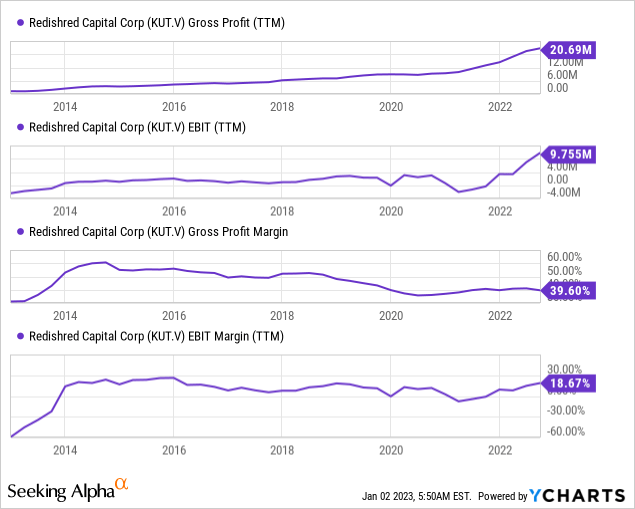 Therefore, I believe that it is quite reasonable to assume that RediShred could increase its earnings by double digits annually in the coming years. At a PE of 10x, the stock looks like a buy.
Editor's Note: This article discusses one or more securities that do not trade on a major U.S. exchange. Please be aware of the risks associated with these stocks.