A Noosa jeweller is turning electronic trash into treasure with a collection of precious pieces she hopes will inspire a circular economy amongst technology giants.
Holly Ryan has been creating sustainable handmade jewellery since 2010, sourcing recycled metals and ethical stones for her designs.
Her ethos builds off the values instilled in her by parents who studied jewellery making in Mexico in the 1980s.
Now, Ms Ryan has taken her efforts to bring an awareness of e-waste to life with a ground-breaking new collaboration.
Lenovo Precious Metals is a set of four unique, one-off designer rings made from metals retrieved from e-waste of Lenovo computers.
Ms Ryan has used gold, silver and platinum from the computers that would otherwise end up in landfill.
"I had no idea there were so many precious metals in laptops," she said.
"When Lenovo reached out to me and told me there were precious metals in computer e-waste, I was super excited because I am always looking for new avenues for sourcing recycled metals.
"To think most e-waste has been going into landfill for years, this is really leading the way in creating processes to recycle e-wastes so jewellery makers like myself can use these resources and we don't need to mine for more."
The kinetic-style rings are designed to move around the finger or can be worn across multiple fingers by being folded out.
Each ring took 1.5 days of labour-intensive work that included hand carving the design from wax, creating a mould and then pouring the recycled metal into the mould to set.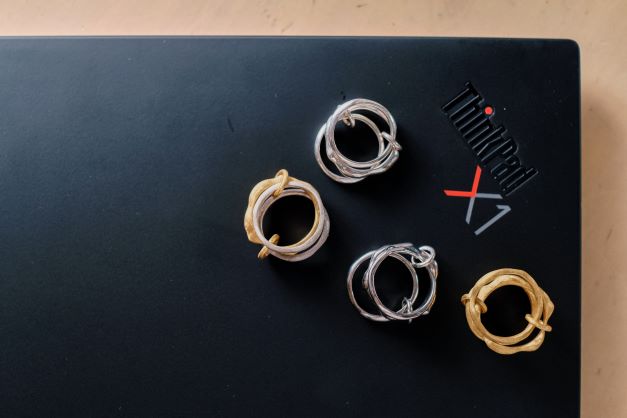 "They are inspired by the Japanese aesthetics of wabi-sabi, which is a celebration of transience and a celebration of imperfect beauty," Ms Ryan said.
"It's about how the world is ever-changing and every evolving and our message to be respectful of our planet."
At this stage the rings will not be available to purchase, with Lenovo intending to award the set to staff who volunteer in the community, as well as auctioning them off for philanthropic initiatives.
Ms Ryan said she hoped there would be scope to create a regular production of the rings to be sold in the future.
In a full circle moment for Ms Ryan, she is also set to open her firs flagship jewellery store next month.
The space will be an immersive showroom and workplace where customers can see jewellery be made and buy direct.
"I learned to surf at the points and … as a teenager, I dreamt of opening a store in Noosa," she said.
"(I imagined) a place that would house products made or designed locally, championing local artists, friends' work and handmade pieces designed by my talented team of jewellery artisans and myself".
She also runs a closed loop recycling initiative where customers can return pre-loved Holly Ryan pieces in exchange for store credit or to be redesigned.
The Holly Ryan store is located at 4/2 Project Avenue Noosaville and will be open to the public from October 5.